Power Retrieval Workshop - April 21-23, 2023
Hallelujah Farms
West Chesterfield, NH

For more information: contact us to learn more
Download the Power Retrieval Brochure April 2023
 PURCHASE TICKETS HERE
Throughout our lives we have all had the experience of "giving our power away" or feeling it was taken from us, leaving us with the sense of not being whole, and wondering what was missing. This loss of power, otherwise known as Chi, Prana and Soul, can cause us to feel out of touch with our bodies and with our lives, it can cause illness, depression, pain, and fatigue. This workshop will give you the opportunity to retrieve this vital essence through Shamanic journeying, Sound Healing, Myofascial Movement, Art and Ceremony all done in a supportive group environment. When we experience life with this vital essence or power we are connected to the flow of life, we feel healthier, happier, and more energized. Please join us, and re-discover the power that is your birthright.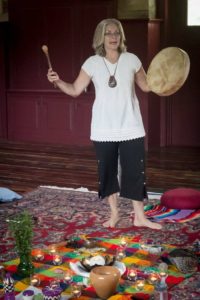 Molly McMillan, OTR/L has been the owner/dire ctor of Manhattan MFR in NYC for 16 years and of Monadnock MFR in NH for 5 years.
She has been practicing the art of healing as an Occupational Therapist using the John F. Barnes, P.T. Myofascial Release Approach for 20 years, and now instructs practitioners nationally for his company, MFR Seminars.
She has studied and practiced Shamanic healing methods with incredible results for the last 14 years, specializing in Soul Retrieval. She was a member of the New York Shamanic Circle's inner core, leading and co-creating their events and workshops.
Molly created this workshop in 2006, as a way to guide others in retrieving their own soul parts. It has since evolved and been offered many times in NY, NH, RI, and MA.