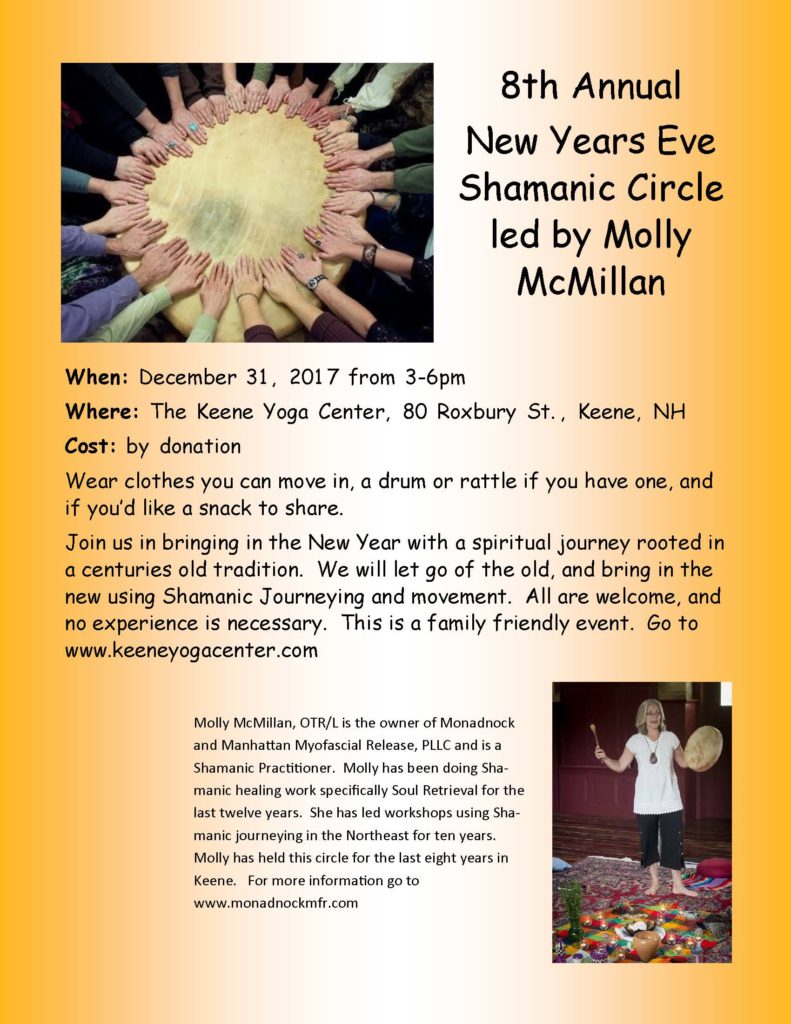 Hi All,
Please join us once again for one of my favorite yearly traditions.
December 31st from 3-6pm at The Keene Yoga Center, 80 Roxbury St., Keene, NH. All are welcome and it is family friendly.
It would be most wonderful to let go of the old and bring in the new with you in this fun and mindful way!
A'ho mitakuye oyasin,
Molly
---
MFR DIVE

EVENT DETAILS:
Myofascial Release Study Group and Water Unwinding led by Molly McMillan, OTR/L and owner of MMFR.
DATE: Sunday, January 7th and February 18th
TIME: 10:30-12:30 Study Group, and 2-3pm Water Unwinding with a break for a group lunch in between.
LOCATION: Study Group at Monadnock MFR, 103 Roxbury St., Ste. 200 C, Keene, NH, and Water Unwinding at YMCA, 200 Summit Rd., Keene, NH
COST: $65 for both, $30 for the study group and $35 for the water unwinding
RSVP: Required for the water unwinding as space is limited, and requested for the study group. Bring a lunch, treatment clothes, a swim suit and a towel. If you have a nose plug that helps.
Register by clicking on the link below and sending us an email
REGISTER NOW
---